Hannah Mitchell Talk
Tameside History club will be holding a talk on Hannah Mitchell on Wednesday 19th September at 2pm to book for free place on the talk please call 0161 342 4242 or email archives@tameside.gov.uk the talk will take place at Tameside Local Studies & Archive Centre, Old Street, Ashton.
Hannah was born in Derbyshire. In her burning ambition for education Hannah became a fighter, independent, radical and single minded. Her mother's effort to give her more womanly attributes had already floundered by Hannah's middle teens; she had abandoned an apprenticeship as a seamstress.
Hannah eventually found employment in Bolton which is where she met Gibbon Mitchell who was a member of the Fabian Society and shorty to become a founder member of the Independent Labour Party. They married in 1895 and she gave birth to a son and also cared for an orphaned niece.
Hannah began to speak publicly at meetings of the Independent Labour Party. She joined, and worked as a part-time organiser for Emmeline and Christabel Pankhurst's Women's Social and Political Union. Hannah died on 22 October 1956 at home in Manchester. Her autobiography, The Hard Way Up, the Autobiography of Hannah Mitchell, Suffragette and Rebel, was edited by her grandson and published in 1968. There is a blue plaque dedicated to her on the wall of the house that she lived at 43 Elizabeth St, Ashton-under-Lyne between 1900 and 1910. 
Hannah is one of the women in the Women of Tameside Exhibition that can be seen at the Tameside Local Studies & Archive Centre on Tues, Weds, Thurs 10-5pm and Sat 10-1pm there is also a book 'Tameside's Women' available for a donation.
---
LAUNCH OF A BOOK and TALK ON "STALEY HALL"
THE HISTORY and ARCHAEOLOGY of a MEDIEVAL MANOR HOUSE
A TALK BY NORMAN REDHEAD
HERITAGE MANAGEMENT DIRECTOR
(ARCHAEOLOGY)
UNIVERSITY of SALFORD

ON the 26th September 2018
AT STALYBRIDGE CIVIC HALL 7.30 pm
Limited places to book call 0161 342 4242 Local Studies
---
Fairfield Calendars 2019
Full colour, 13 unique prints from individually drawn artistic impressions from Fairfield and celebrating its church year. Price £5.00 plus £2.00 Postage and packaging
To order one please contact Sr J Warr on 0161 370 0132 or by email jwarr@uwclub.net (all profits to Fairfield Moravian Church).
Click here to download more information and for images
---
Cross Street Exhumations
Cross St exhumations by Mark Bell CAF Archaeology on the 17th April at Dukinfield Old Chapel community room at 7pm £2 Tea/coffee. This should be a fascinating talk all about the bodies discovered during the Second City Metrolink crossing of St Peter's Square in Manchester.
---
Mossley Civic Society
Please download this press release for their new lottery Funded Heritage Project - Click to download a copy
---
Audenshaw Local History Society - Trip to Shrewsbury and Blakemore Village
Saturday 28th July 2018 our annual outing will be to Shrewsbury where there are more than 600 listed buildings, many of them Tudor. Then onto Blakemere village for the afternoon. Pick up in Audenshaw Ryecroft Hall 08.00. Ashton Prince of Orange 08.15. Returning 17.30 pm from Blakemere. £15.50 all classes. Book early to avoid disappointment.
---
Revised History Club Talks for 2018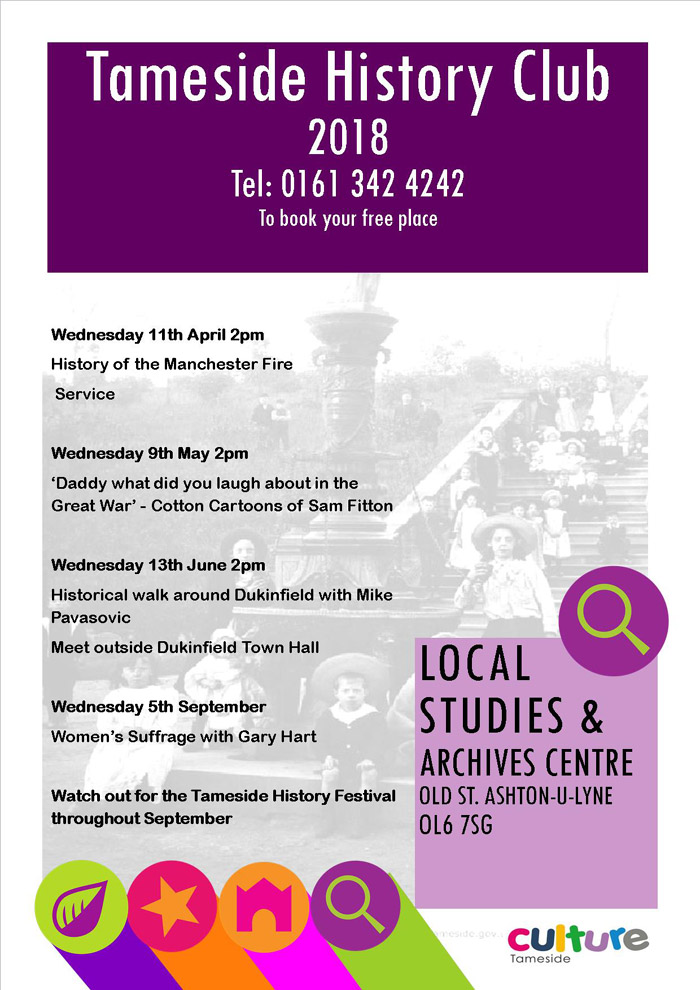 ---
The Story of Frances Lockett Britain's first Cotton Queen
Just thought people may be interested in this article about the cotton queens of this area

It's an interesting website too with lots of other interesting articles.
---
The Latest Lancashire History Federation Newsletter
Click to Download your Copy
---
Christmas Coffee Morning at Tameside Local Studies Library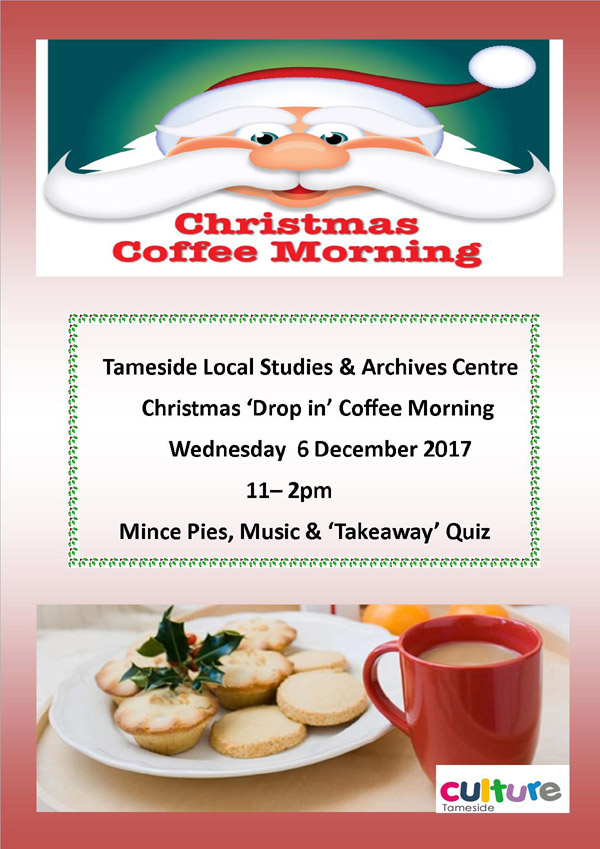 ---
Lancashire Local History Federation Newsletter
Download a copy here. There is an article about Tameside Heritage Open Days.
---
Audenshaw Local History Society
Click here to download a copy of our Magazine Past and Present
---

Conference invitation from Tameside Council, Tameside and Glossop Clinical Commissioning Group and Tameside and Glossop Integrated Care NHS Foundation Trust:
Ensuring that the public voice and opinion is at the heart of the public sector is key to designing approaches and strategies that both meet the needs of our communities and also respond to the challenging times faced by public sector organisations.
As part of this, we will be hosting a conference to provide opportunity to hear more about these approaches and also get involved in workshops/discussions about a set of specific programmes and developments.
We would like to invite you to join us on:
Friday 13th October
9.30am - 2pm
Main Hall at Hyde Town Hall
Due to venue capacity we request that you book in advance and spaces are initially limited to 2 per organisation. Please register by 29th September at which point we will start to allocate any remaining places. You can book a place via the following link:
Book Through Eventbrite - click here
If you would like additional places, please send details to deborah.roberts@tgh.nhs.uk and we will add to a waiting list.
---
Samuel Laycock
1 October 1867 - Samuel Laycock left his post as Librarian / Caretaker at Stalybridge Mechanics Institution to take a similar post at Fleetwood - in commemoration of this event a talk is to take place at the Tameside History Club held at the Local Studies Library in Ashton-under-Lyne
THIS IS NOT JUST ANOTHER OLD LOCAL POET, THIS IS SAMUEL LAYCOCK, the most celebrated local dialect author, who wrote stories, songs, and hymns, as well as poems. His most famous works are "Bonny Brid" and "Bowton's Yard". This is what he undertook in the spare time he had when he wasn't working, in the local cotton mill, in his photography shop in Mossley, and at the Stalybridge Mechanics Institute. This year marks the 150th Anniversary of Samuel Laycock leaving Stalybridge to go and live on the Fylde coast ..... so the event at 2.00pm on Wednesday 18 October, with an illustrated slide show, is the launch of a new book on Samuel which is entitled ....... "Remembered Still" ...... hope to see you there !!!

Tameside History Club
---
Heritage Open Days 2017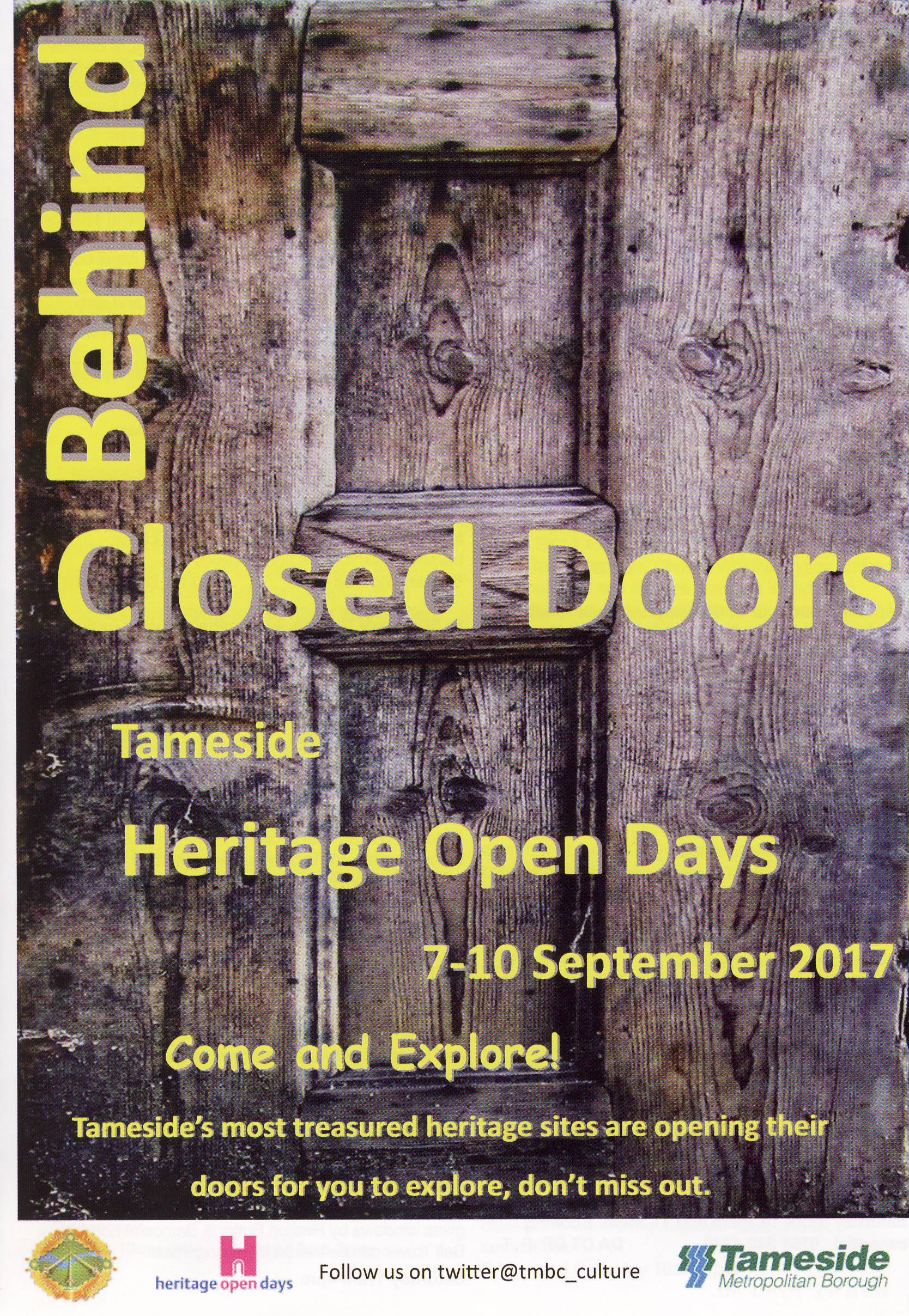 please click here to download the full leaflet
late addition
Ashton
Tameside Canal Boat Trust, Portland Basin Wharf, Ashton under Lyne, OL7 0QA
Free canal boat trips "behind closed doors" - up through the lock and back, which is not normally part of our public trips.
Friday 8th and Saturday 9th Sept; 11.00 am, 12.30, 1.45 and 3.00 pm
---
Tameisde History Club Talks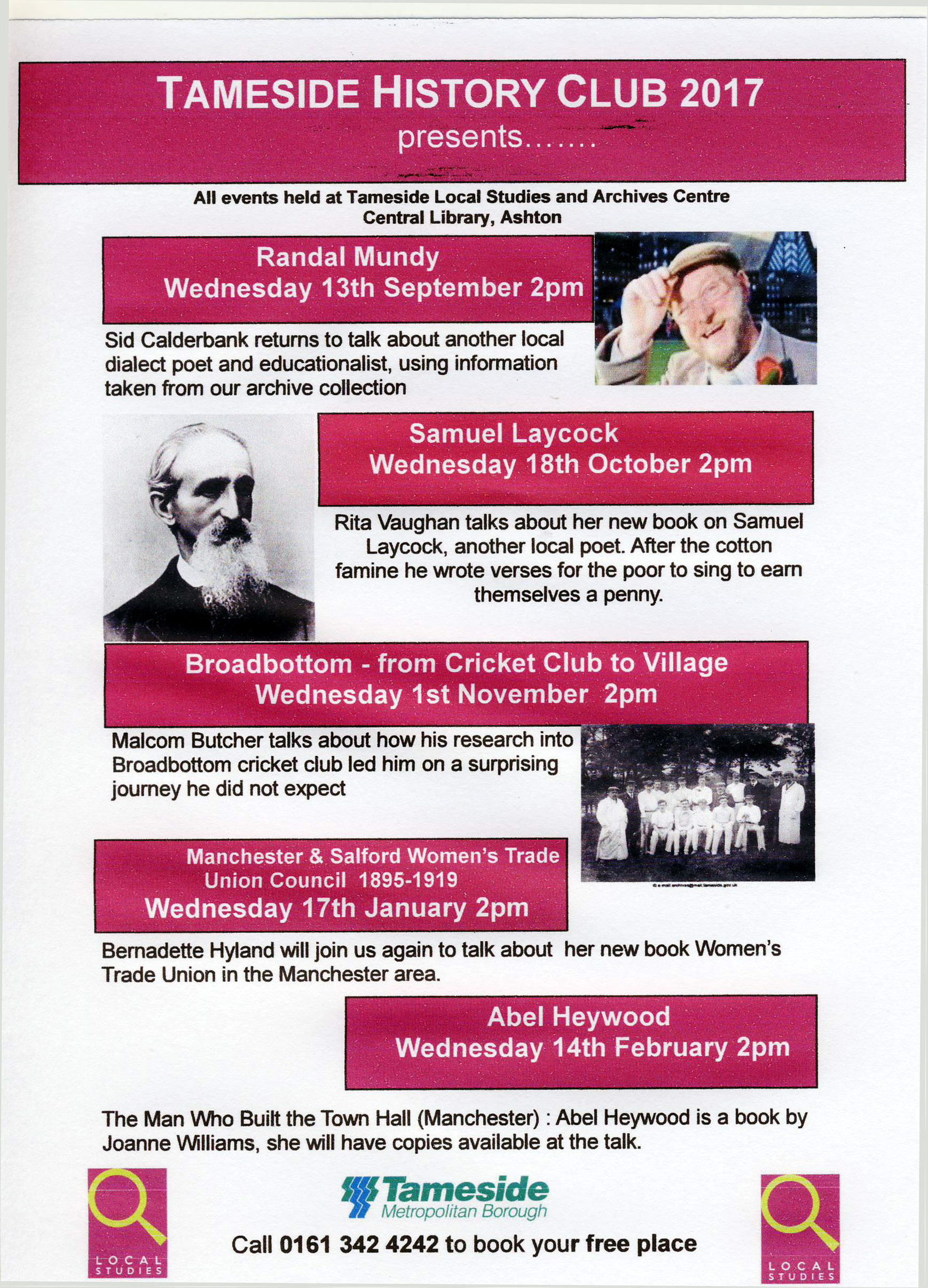 Click to download a copy of this leaflet
---
New Book Mossley RNLI by Shirley Howard and Alison Wild
It is the 50th year since the Mossley branch started. Shirley and Alison will be at The George Lawton Hall on Friday 1st September at 11.00am to sign copies. A celebratory cake and a short talk by Alison Wild.
Sales to help fund a new lifeboat at Lytham St Annes.
---
Tameside Local Studies and Archives Centre
Making Friends with the Archives

30 May 'Living the Poor Life'
27 June 'How does your Garden Grow?
26 September 'The Great
31 October 'On the Move - Canals and Railways


Masterclasses

24 May Lancashire Cotton Famine with Alice Lock
19 September Tracing Your Family History with Trish Phillips
8 November Historical Research using British Newspapers with Denise Bates

---
All need to be booked at Local Studies 342 4242
Dig Greater Manchester Archaeology Festival 2017
Venue: Fairfield Moravian Settlement, Droylsden Tameside M43 6AD (All parking At Fairfield High School, Fairfield Avenue M43 6ED Thanks)
Date & Time: Saturday 24 June 2017 12noon - 5pm
The Settlement was built in 1785 and its buildings and cobbled streets remain largely unchanged today.
We are offering:
Walk 1 - Maximum 20 places at 2pm This will be around the original border of the site looking at what the pre-industrial landscape would have been like when Manchester was a small, distant village.
Walk 2 - Maximum 20 places at 3.15pm Tour round Settlement taking in its history and changes (Please book these walks with Eventbrite details to follow shortly)
Settlement Museum click to download the latest museum leaflet.
Exhibition - About Tameside's Local Archaeology and History
Light Refreshments available
---
BLAST!
Events to commemorate 100 years since the munitions explosion that occurred on June 13th 1917 in Ashton-under-Lyne
Tuesday 13th June 2017 at 4:20 St Peter's children will be performing a song cycle in Ashton Town centre (at the market) to mark exactly 100 years since the tragic event
Thursday 22nd June at 6:30 St Peter's Church will be hosting an evening where the children from St Peter's school will perform the song cycle - with all donations given to The Royal British Legion
Wednesday 19th July & Thursday 20th July at 6:00 St Peter's Year 6 children's end-of-year production'BLAST!', (a musical written by the children) to be held at St Peter's CE Primary School -tickets available from the school - £3.00 each.
---
Click below to download a copy of the latest Tameside Cultural Events booklet.
Over 50 events from March - September 2017: Download here.
---
Tameside Local Plan - consultation 23 March - 6th April

Tameside Metropolitan Borough Council recently announced its intention to prepare a new Local Plan, that once adopted will replace the saved policies of its existing 2004 Unitary Development Plan. The Local Plan will reflect the context provided by national policy, guidance and the emerging Greater Manchester Spatial Framework (GMSF) and set out the vision, objectives and local planning policies to guide development in the Borough up to at least 2035. The Council invited views about what the new Local Plan ought to contain between Monday 23 January 2017 and Monday 6 March 2017. The representations made in relation to this consultation are currently being considered. Please download the full document here.


---
Hurst St John Craft Fair on Saturday 1st April - lots to do and see download the flyer


---
16th March a walk around old Ashton (Alan Rose's) with Alice Lock meet at Ashton Parish church Stamford St near People First, at 12 oclock then onto Local Studies for Larysa's last day.


---
20th March the unveiling of the Arthur Brooke Blue Plaque at Molly Malones pub George St Ashton 2pm, a low key event.


---
25th March a hard hat tour of Old Chapel Dukinfield limited places contact 07542001003.


---
2nd April A grave yard tour at St George's Mossley meet at 1pm stout shoes, no dogs, limited places of 30 email chris or Shirley Howard and Rita Vaughan.


---
5th April 1-3pm Pond Dipping at Gorse Hall with Lesley Bardsley and Friends of Gorse Hall meet at main entrance High St Stalybridge.


---
Unveiling of the Ousey marble at Ryecroft Hall 24th March contact Julie Fisher and trip to Carnforth.


---
Audenshaw Local History Society Annual Trip


Saturday 29th of July - Ryecroft Hall 08.30 pick up then Prince of Orange bus lay-by in Ashton 09.00 then onto Carnforth Stn where we will have ample time to look round the visitors centre & Museum , also sample a Home made soup or Cream Tea from the famous 'Buffet Bar' or stroll onto the town.

Then after, we travel to Lancaster where we have 3 to 4 hours ........ At Leisure 5.pm return..
The cost is £15.
---
Tameside History on Your Doorstep Research Group - don't forget all welcome to sort the Reporter old photos will bring back memories of all things past every Thursday at Local Studies 1pm.
---
Masterclass in researching your Military Family History Wednesday 22nd March at Tameside local Studies - booking essential. click here for poster with more information
---
Trip to Whitby organised by the Frienda of Ashton Parish church, Click to download their poster for more information
---
Trip to Arley Hall and Knutsford, suggested day 15th June - likely cost will be around £10 for transport and £10 entrance to the hall. We will be asking for deposits soon, more information at our AGM on 28th February - see home page for details

---
BRILLIANT NEWS!
Old Chapel, Dukinfield can now prepare for the repairs to this most important building, thanks to a large grant from Heritage Lottery Fund (HLF) Click here for PRESS RELEASE
---
Mossley Town Team has launched their WW1 Blue Plague Trail in conjunction with Mossley Civic society and Mossley Town Council. Click here for a detailed leaflet
---
Next Talk of Tameside Family History Group will be a presentation by members of the History on Your Doorstep Group about their research into the Cockbrook area of Ashton-under-Lyne at Old Chapel Schoolrooms, Dukinfield, Wednesday 9th November 2016 doors open 7.00pm
---
Next Talk of Tameside Family History Group will be about "Belle Vue" Remembered by Frank Rhodes inaugural award winner celebrating world renowned science historian and advocate of Manchester's Heritage Professor - John Pickstone. Old Chapel Schoolrooms, Dukinfield, Wednesday 12th October doors open 7.00pm
---
Tameside Fun Palace - Saturday 1st October 10.00am - 3.00pm, a team of family history researchers will be there to help, Tameside History Forum will be there with members and various book publications. Also two presentations about DNA and Family History Mysteries at 11.00am and 1.00pm, click for flyer.
---
A new book written by Alison Wild and Shirley Howard all about the History of Mossley Churches and Schools will be launched at George Lawton Hall Monday 10 October 2016. Click for Flyer
---
A guided Rememberance Tour of Mossley Cemetery on Sunday 6th November at 11.00am Click for more information
---
The latest series of talks happening at Tameside History Club, click for leaflet
---
Roman Roads Convention Saturday and Sunday 12th, 13th November at York. click for full details
---
New member of our Forum, Hurst St John's church and details of their Battle of the Somme Comemoration. Click to download a poster
---
Oldham Council Destroys Heritage Bridge without consulting interested groups. Click to read the full story. Bridge Demolition
---
Albion URC is 200 years old. Please visit their website to discover all their centenary celebrations. www.albionurc.org.uk
---
Rita Vaughan has written two new books: I have just written two new books:- "Mossley St John Ambulance" and "Stories About Mossley" and they are being launched on Friday 6th May 2016 at 11.00 am in the bar area at George Lawton Hall, Mossley, where I will give a talk about the books. Afterwards the books will be available for purchase from myself, and at both Mossley Library and the Local Studies Library in Ashton-under-Lyne. A "meet the author" event will be at the Local Studies Library in Ashton from 11.00 am to 1.00 pm on Wednesday 25th May 2016. If you are unable to attend either of these events and would like to purchase a copy, then I can post a copy of one or both of the books to you.
Click to read a publicity article that explains more about each of the books. Rita Vaughan 1 May 2016
---
Very Sad News our chairman Alan Rose born 16th May 1937 at Openshaw, died suddenly of a heart attack at his home on 21st March 2016. Donations to Christian Aid - no flowers. Funeral will take place on Wednesday 13th April at 10.00am at Stalybridge Methodist Church followed by 11.30am at Dukinfield Crematorium. Click here to read a tribute to Alan written by Alice Lock.


---
Please click here to read about the plans this year for the 150 anniversary of Beatrix Potter by the Friends of Gorse Hall.


---
the latest programme of talks and walks for Tameside History Club for the rest of 2016. Click for Poster


---
'Women's Suffrage-1911 Census in Ashton' the talk is given by Alice Locke. at Ryecroft Hall 7.15 pm Monday 23rd of May 2016. All welcome, please come in and learn the history on your doorstep. Non members £2 entrance.


---
Frank Rhodes takes the inaugural award celebrating world renowned science historian and advocate of Manchester's Heritage Professor - John Pickstone. Click for more details.


---
Please see the Newsletter from the Lancashire Local History Federation. Our Forum has joined and will be looking for contributions from our groups for any future events to go into the next issue - closing date 15th May.


---
Please download a copy of the latest Newsletter from the Lancaster University Heritage Newsletter.


---
Download a copy of Tameside MBC Winter Cultural Events brochure
---
Download a copy of Tameside MBC Summer 2016 Cultural Events brochure
---
New Book, "Mossley Remembers WW2"
by Rita Vaughan, Shirley Howard, Alison Wild
Click here for more details

World War One Centenary Projects - up-dated November 2014
Click here to go to a page listing the progress of all WWI Centenary Projects in Tameside